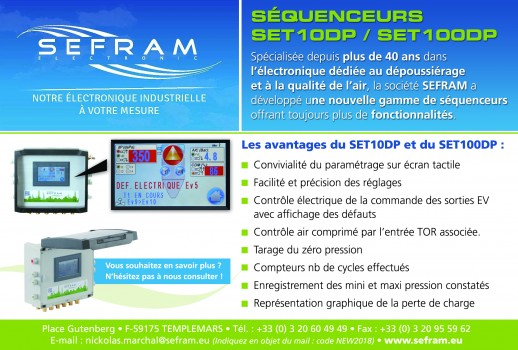 We recently decided to appear at new among the announcers of magazines specialized in the field of the vrac.
So, our advertisement echos our last news, commercialized at the beginning of 2018 : the controllers SET10DP and SET100DP.
Le SET10DP et le SET100DP come to complete our new range of controllers SETxx, inaugurated in 2015 by the SET18DP.
These new products aim at answering your expectations concerning the control and the piloting of your dust removal installations, for an interesting economic approach.
This new material joins completely in SEFRAM's strategy by coming to complete an already present range of products concerning au the piloting of filters dust collectors and dust measure : controllers, differential pressure switches, flow meters, Dust Emission Monitoring, process controllers.
You can find these products on the page Products à Controllers of our website.
Don't hesitate to consult us if you need more informations !