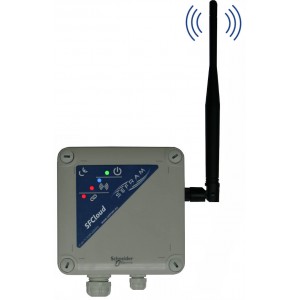 The SFCloud is a radio frequency transmitter.
It allows data to be regularly deposit operating data on a computer platform ("cloud").
It is connected to a compatible SEFRAM device.
Multiple data are regularly sent to the platform such as, depending on the connected equipment, pressure drop measurements, compressed air, dust emission, number of cleaning cycles, alerts, alarms, faults, etc.
This equipment gives a significant help in terms of preventive maintenance and can help avoid a trip.
Advantages
The data deposited on the "cloud" is accessible from the internet (computer or smartphone) in a user-friendly form: graphs, history...
The platform is secure for user access according to login and password.
The user will have access to all the equipment for which he has been authorized.
Users have the option of being alerted in the event of a fault/alarm detected (via email or SMS).