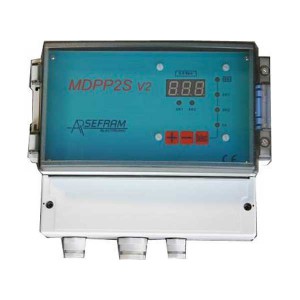 The MDPP 2000 is used to measure differential or relative pressure.
The reading is given by a high-brightness "led" type display. Its operation is suitable for monitoring a compressed air network intended for unclogging filters. The device is equipped with two relays. It can be equipped with a 4-20mA remote carry signal or an RS422 link (options).
Each relay is controlled by an adjustable threshold and their states are signaled on the front of the device by LEDs.
Advantages
Fully programmable equipment
Adjustment easy and accuracy
User-friendly parameter setting (digital display and keys)
Fail-safe equipment