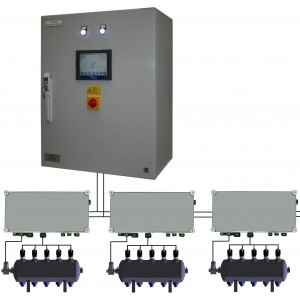 The SFX+V2 is a modular sequencer dedicated to the declogging, control and monitoring of filtration / dust removal processes.
Its modular design allows it to be rationally configured to meet the most diverse applications.
It can manage filters organized in several cells (= compartments) and with several compressed air tank. 
Advantages
Optimization of the network cabling station
Compact, scalable and modular
User-friendly parameters settings via the touchscreen graphic interface
Control, management / memorization and dating of faults
Data processing / archiving
Reliable connections
System protected on several levels by passwords
Adapted to the process according to specifications
Flexible of adjustments
Useful for maintenance service